BARE BEANS
More Than Just Ordinary Beans
Bare Beans redefines the idea of "pre-cooked" beans.
Each batch of Bare Beans is kettle-cooked to perfection. We prepare them al dente so they hold their structure and bite when used in further recipes. They are firmer than canned beans and not mushy.
As soon as you open one of our pouches, you will notice a considerable difference in quality, texture, color, and smell. We will let you be the judge of which is better.
Black Bare Beans

Garbanzo Bare Beans

Pinto Bare Beans

Red Bare Beans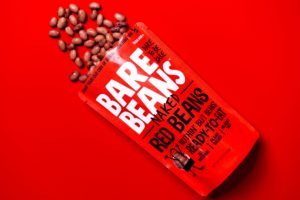 What Are Bare Beans?
Simply put, the best thing to ever happen to beans! Let's be honest, we all love scratch-made beans, but if we forget to soak them overnight we are left with only one alternative….THE GROSS CAN!
Bare Beans are the solution!
They are fully cooked and ready to eat!
No Liquid to Drain! No Cans to Open!
Pesticide Free
We promise to grow and source (if necessary) only pesticide-free beans for our Bare Beans Products. We promise to farm all of our bean crop without pesticides applied to them.
Non-GMO
We promise that our Bare Beans Products will never be made with the use of modern biotechnology. We will never use beans or any ingredients that were genetically engineered. Currently, there are no commercially produced or imported GMO beans in the U.S. Dried beans have been naturally non-GMO for centuries and we plan to keep it that way.
Contact Us
[contact-form-7 id="5″]